Punjab(Ludhiana)
Ludhiana Chapter
Prof. Madan Mohan, Sh. Suresh Atray,F-231,Kitchlu Nagar, Ludhiana India
E-Mail : jagdambagaur@hotmail.com
Phone :01624-223356
Mobile :9814034023
Faculty
Chapter Chairman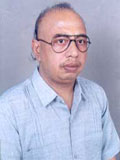 Dr. Jagdamba Prasad Gaur
Ludhiana Chapter
E-Mail : jagdambagaur@hotmail.com
Phone :01624-223356
Mobile :9814034023
Qualification & Experience :
Prabhakar Graduate
Doctorate in Astrological Science from International Council of Astrological & Occult Studies,Hyderabad
Jyotish Maha Mahopadhyay from All India Astrologers Federation, Ahmedabad
Gold Medal from Vishva Jyotish Sammelan, Saharanpur
Venue where classes are conducted
Navyug Public High School
Kitchlu Nagar, Near Petrol Pump and Ramsharanam Ashram
Ludhiana (Punjab)
Awards
Jyotish Pandit, Jyotish Ratan, Jyotish Vachaspati, Jyotish Shiromani, Jyotish Bhushan,Jyotish Bhaskar
Experience
Practicing under the guidance of Grandfather Pt. Durga Dass Gaur (Jyotish Acharya).
Independentaly working since 1980 as the director of M/S Durga Jyotish Kendra
Since 1992 running full fledge owned firm M/s Jagdamba Jyotish Research Centre (Regd.)
Chairman of All India Federation of Astrological Society, Ludhiana Chapter
Also running Computer horoscope centre in connection with Future Point
Writing the articles in magazine "Future Samachar".
Courses Running
| Astrology | Vastu Shastra | Palmistry | Numerology |
| --- | --- | --- | --- |
| Jyotish Ratna | Vastu Ratna | Samudrik Ratna | Ank Jyotishacharya |
| Jyotish Bhushan | Vastu Shastracharya | Samudrik Shastracharya | |
| Jyotish Prabhakar | Vastu Rishi | Samudrik Rishi | |
| Jyotish Shastracharya | Vastu Maharishi | Samudrik Maharishi | |
| Jyotish Rishi | | | |
| Jyotish Maharishi | | | |