Karnataka(Chitradurga)
Chitradurga chapter
The Indian Astrology foundation
No. 16 ,First Floor. vaastu Souda indira nagar,old B'luru road,chitradurga,karnataka,India, Chitradurga India -577501
E-Mail : astro.doddarangaiah@gmail.com
Phone :08194-234269
Mobile :9632864976
Chapter Chairman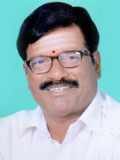 Er. Doddarangaiah D.M.E.
Chitradurga chapter
E-Mail : astro.doddarangaiah@gmail.com
Phone :08194-234269
Mobile :9632864976
Qualification & Experience : Having knowledge of Astrology,Palmistry, ,Numerology & vastu since 15 years and aslo "Rekei Master".He is also a government employee of Karnataka Government.He is diploma holder in mechanical engg. and author of a 200 page book "future life of 2015 ".
Courses Running
| Astrology | Vastu Shastra | Palmistry | Numerology |
| --- | --- | --- | --- |
| Jyotish Ratna | Vastu Ratna | Samudrik Ratna | Ank Jyotishacharya |
| Jyotish Bhushan | Vastu Shastracharya | Samudrik Shastracharya | |
| Jyotish Prabhakar | Vastu Rishi | Samudrik Rishi | |
| Jyotish Shastracharya | Vastu Maharishi | Samudrik Maharishi | |
| Jyotish Rishi | | | |
| Jyotish Maharishi | | | |