Madhya Pradesh( Bhopal)
Bhopal Chapter
Bhartiya Jyotish and Vastu Sansthan
GM-6, Coach, Factory Road, INDUS City, Bhopal India
E-Mail : astro_vineettiwari@hotmail.com
Mobile :9827457570
Chapter Chairman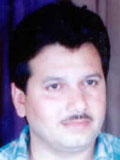 Pt. Vineet Tiwari (Raj Jyotishi)
Bhopal Chapter
E-Mail : astro_vineettiwari@hotmail.com
Mobile :9827457570
Qualification & Experience :
Jyotish Samrat, Jyotish Bhaskar, Jyotish Vachaspati, Jyotish Martand, Jyotish Bhushan, Jyotish Visharad, Jyotish Shree, Vastu Samrat, Vastu Ratna, Vastu Visharad, Tantra Shiromani, Tantra Bhushan, Yog Visharad
For the last 15 years in the field of Astrology, Vastu and Tantra.
International Award and Gold Medals
Astrology Award:-
Fellowship of Vishwa Jyotish Vidyapith, Jyotish Padmashri Award, Vishwa Jyotish Brahmarshi Award, Vishwa Bandhu Award, Golden Achievement Award, Gangotri -Gaumukh Tirth Award, Astro-Shani Kaljayee Award, Maharshi Vedavyas Award, Arya Devarshi Award with Gold medal, Indian Great Astrologer Award with Gold Medal, N. C. Lahri Memorial Gold Medal.
Vastu Award:-
Vastu Shree Award, Vastu Vigyan Vinayak Award with Gold Medal.
Tantra Award:-
Bhairav Tantra Sadhna Award with Gold Medal
Yoga Award:
Jagat Janani Award, Yoga Rekei Vigyan Award with Gold Medal
Courses Running
| Astrology | Vastu Shastra | Palmistry | Numerology |
| --- | --- | --- | --- |
| Jyotish Ratna | Vastu Ratna | Samudrik Ratna | Ank Jyotishacharya |
| Jyotish Bhushan | Vastu Shastracharya | Samudrik Shastracharya | |
| Jyotish Prabhakar | Vastu Rishi | Samudrik Rishi | |
| Jyotish Shastracharya | Vastu Maharishi | Samudrik Maharishi | |
| Jyotish Rishi | | | |
| Jyotish Maharishi | | | |