Karnataka(Bangalore)
Bangalore Chapter-I
Jyothir Mandiram
39, 2nd Main, 2nd Stage,West Chord Road, Bangalore India -560086
E-Mail : onshoot@vsnl.net
Phone :080-23494724
Mobile :9481244050
Faculty
Chapter Chairman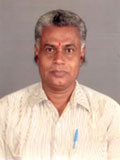 Sh. T.V. Lakshminarsimhiah
Bangalore Chapter-I
E-Mail : onshoot@vsnl.net
Phone :080-23494724
Mobile :9481244050
Qualification & Experience :
14 year experience of Panchanga compilation, publishing and teaching of astrology.
Author of ALMANAC (Panchang) since 1989 in Kannada.
Author of Books - Indian Latitudes, Longitudes & different times.
Panchanga Bharathi (Pocket Calendar) in six languages (Kannada, Hindi, English, Tamil,Telugu, Malayalam), Lagna Bharati, Neethi Bharati.
Participated in Akhil Bhartiya Panchangkarta Sammelana held in New Delhi.
Awards & Honors
Conferred Vocational Excellence Award in 1989 by Rotary Club of Bangalore
Conferred as "Jyotisha Kesari" by Hampi Vidyaranya Peeth, Bellary
Conferred as "Jyothir Ganitha Visharad" by Avani Sringeri peeth Avani Kolar.
Conferred the prestigious Aryabhatt Award 2000 in recognition of excellent service and talent in astrology.
Courses Running
| Astrology | Vastu Shastra | Palmistry | Numerology |
| --- | --- | --- | --- |
| Jyotish Ratna | Vastu Ratna | Samudrik Ratna | Ank Jyotishacharya |
| Jyotish Bhushan | Vastu Shastracharya | Samudrik Shastracharya | |
| Jyotish Prabhakar | Vastu Rishi | Samudrik Rishi | |
| Jyotish Shastracharya | Vastu Maharishi | Samudrik Maharishi | |
| Jyotish Rishi | | | |
| Jyotish Maharishi | | | |